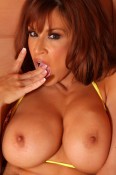 The always outstanding Devon Michaels takes her fine curves into the sauna covered only by a skimpy bikini.
Things heat up quickly as she tears the swimsuit away and displays her ample boobs and thick thighs.
Turned on by her own exhibitionism, the fiery woman dips two fingers deep into her pussy and then sucks off the juice.
Enjoy this set of Devon Michaels masturbating in the sauna