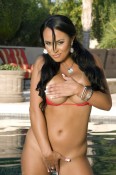 Mariah Milano may pretend a sudden feeling of shyness for a couple of pictures in this set, but rest assured, this Sicilian babe will always favor her naughty side.
She wears her raven-black hair in pigtails and casts a sly glance to the lens as her bikini comes off and she shows it all.
Mariah gets on the ground, positioned on her knees and presents pussy and ass to the camera.
See Mariah Milano stripped of her bikini
Want more of this busty bad girl? Visit All Mariah Milano