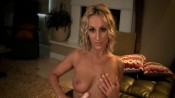 Prepare yourself for immense sexual titillation as Samantha Swallows takes you on a tour of her hot body.
The naturally busty blonde strips to show off her soft boobs and tight tummy. She opens her legs to reveal her pink pussy as well.
It gets even better as the horny vixen takes a realistic dildo and dips the toy dick deep into her wet paradise.
Watch Samantha Swallows masturbate feverishly on video